With burnout rates at an all-time high and employees craving leaders and companies that prioritize their well-being, employee recognition has never been more paramount. Compliments on their work and shoutouts in important meetings are a great start, but when your employees go above and beyond, your rewards should, too. You need an employee rewards and recognition provider that can deliver.
When you begin searching for a recognition partner, you'll probably consider factors like cost, gift options, and how employees can access their rewards. But what about flexibility, especially in how your potential provider bills you? It should be. Do you know your options?
Let's explore billing on issuance (BOI) and billing on redemption (BOR)... and which is right for you.
What is billing on issuance?
When you're looking for a rewards and recognition provider to help you celebrate your employee, they may offer a billing on issuance offer that bills your organization the entire value of your points as soon as they're issued. You pay upfront instead of when the rewards recipient redeems them.
Pros and cons of BOI
Want to keep your finance department happy? BOI could be your best option. When you choose the BOI model, you pay for everything upfront—no unpredictable invoices every time an employee redeems their points. BOI makes planning ahead feasible because you've already paid for everything, regardless of whether your employees redeem their points.
While BOI might take some stress off your financial department, you do run the risk of paying for points your employees never redeem. If you're not clear with employees that they need to use their points, you might also have to ramp up efforts to educate them:

The points are a reward

You can—and should—redeem them

You can put your points toward gift cards, merch, or whatever else our partner offers
Further, in higher interest rate environments, and considering a quality rewards and recognition program can invest as much as 2% of payroll each year, you may be surrendering a lot of interest income in a BOI model.
What is billing on redemption?
As the name implies, billing on redemption means you don't get charged for your points until an employee redeems them. It takes a more risk-free approach, ensuring you pay only for what you use.
Pros and cons of BOR
BOR is a no-risk approach that protects you from spending budget on something employees will never use. Simply put—if employees don't redeem points, you don't pay.
Unlike a billing on issuance model, BOR can be somewhat of a headache for accounting. While you only pay for points when an employee uses them, not knowing when that invoice will come can make planning ahead difficult. Your invoices could vary wildly from month to month, making it almost impossible to forecast your rewards and recognition spend.
Another thing to consider is the financial liability you bear each year—you could carry the balance years after awarding the points.
Which billing model is right for me?
BOI and BOR have their pros and cons, but to choose which is best for you, consider your broader business. Does your accounting team need predictable invoices? Have employees in the past redeemed points, or do they let them go unused?
At Madison, we think the best question you should ask is if you have flexibility in how your rewards and recognition provider bills you. Do you have options? Can you count on them to guide you toward the best option? Your rewards provider should be a trusted partner that provides flexible solutions suited specifically to your needs.
More than a provider—a partner
Celebrating employee wins and recognizing their hard work is about more than a simple "thank you." They deserve more—and with the right rewards and recognition provider, you can give them everything they deserve.
Your provider should partner with you and provide the flexibility you need, including which billing model works best for your organization. Whether it's BOI or BOI, Madison works with you to offer exactly what you need.
So, if you're looking for a partner who bills your way, Madison is here to help. Contact us today to learn more about how we can work together.
---
To learn more, read our peel-back-the-covers look at the rewards and recognition business and the dozen or so things that many providers do to make their programs less rewarding.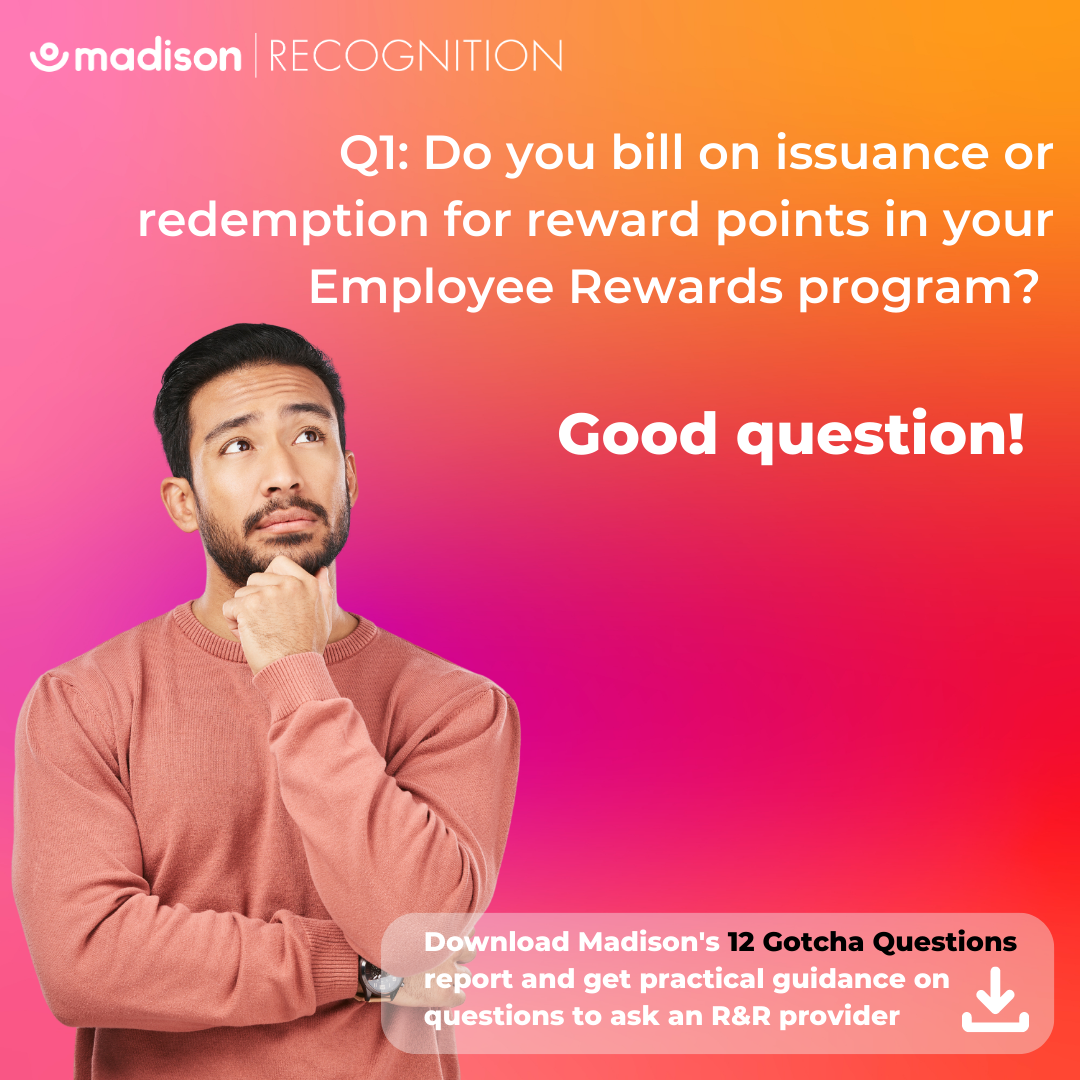 ---
At Madison Recognition our work is rooted in the belief that unleashing the productive potential of employees with reward and recognition programs and empowering individuals will help us stay ahead of workforce trends. To learn more about how you might be neglecting women in the workforce and the steps you can take to correct that, download our white paper here.